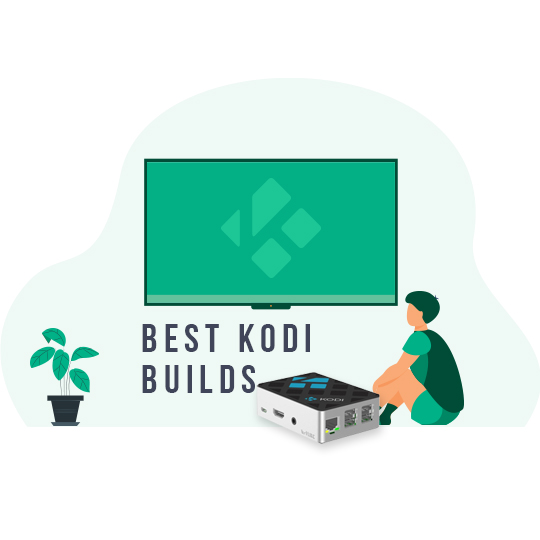 Best Kodi Builds
Like any other platform, Kodi would also have limited functionality to suit the needs of diverse users. Thanks to the many builds created exclusively for the platform, that do more than enhancing the user experience. Installing the best Kodi builds gives you the chance to get customized settings and specialized skin without any hard process. Installing add-ons one-by-one is a long process. Therefore, we consider installing a Kodi build to be the best way to access a library of popular Kodi addons. Besides that, having the best Kodi build gets you a unique Kodi skin that instantly transforms the entire Kodi infrastructure. Find about the top 5 Kodi builds and more on this spicey issue in this article.
What are Kodi Builds and Why do I need them?
If you're new to Kodi, it's important to understand what Kodi builds are and how you can use them.
These builds are one-click programs that get you the collection of Kodi addons, settings, and skin, all in one. Without a Kodi build, you have to customize Kodi settings and install individual addons for personalized content streaming.
Kodi build takes the hassle away and does everything for you with just a single click. They save time that you otherwise spend in finding and installing individual addons for streaming content. However, finding the best Kodi builds is not that easy. A lot of options are available, among which opting for the best is a challenging task. Nevertheless, you can take help from our guide to get yourself the best Kodi build for 2021. All in all, a Kodi build significantly reduces the amount of time and frustration that you otherwise experience while running Kodi on its supported devices.
Note: A Kodi VPN is highly recommended for a secure streaming experience. A VPN scrambles your online traffic in a secure tunnel to keep your streaming private. Moreover, with a Kodi VPN, you can easily access content otherwise blocked on Kodi addons. Using a VPN while you stream on Kodi will protect you from ISP monitoring and speed throttling. Learn here how Kodi VPNs protect streamers online.
Which is the Best Kodi Build for Me?
While different users prefer different Kodi builds depending on their uses and interests, the most popular and widely-used Kodi build is "No Limits Magic".
Why is No Limits Magic the most recommended Kodi build?
No Limits Magic is the most recommended Kodi build because it helps you use Kodi the way you want. The best thing about No Limits Magic Kodi build is that it supports both high-end and low-end devices. Moreover, it's a well-fitted choice for anyone: whether you're a new kid on the block or using Kodi for years, installing No Limits Magic will be worth it. This Kodi build is packed with unlimited high-quality video addons catering to heavy and casual streaming needs. Plus, it has an extremely user-friendly interface, which makes it super compatible with all Kodi users.
The List of 5 Best Kodi Builds
Here's a quick rundown of the best Kodi builds other than No Limits Magic to look out for in 2021:
MisFit Mods Lite
Titanium Build
Streamline
Xanax
DaButcher
We'll go through each Kodi Build mentioned in the list one by one in detail.
1. MisFit Mods Lite Kodi Build
MisFit Mods is a trusted and tested Kodi build that functions for Amazon Firestick 4K, Fire TVs, FireTV Cubes, NVIDIA shields, Android TV Boxes, and many others. Due to its high device compatibility, it's considered one of the best Kodi builds.
It's the best build for streaming live sports, free movies, music, and shows. It only works for Kodi 18 Leia and is packed with top Kodi addons, including SportsDevil, The Magic Dragon and Deathstar. It means that installing MisFit Mods Lite Kodi build will enable you to access unlimited content. It's an all-in-one package that you should go for.
2. Titanium Kodi Build
Talking about the best Kodi builds and skipping Titanium is absolutely impossible. Titanium is one of the most long-running Kodi builds. It is equipped with a wide range of addons and skin options to choose from. It supports both Kodi 18 Leia and Kodi 17.6 Krypton.
Due to its simple Home Screen, using Titanium build is straightforward for all Kodi users. Some of its most popular supported addons are: Supermacy, Yoda, Gaia, Maverick TV, 13Clowns, and many others are available. With Titanium build, Kodi users can update or modify settings as per their choice. It's the best build to access a variety of content, including Sports, YouTube, US and UK cable TV channels, Live TV, Kids, Recorded Sports, and more.
3. Streamline Kodi Build
Streamline Kodi build works great on all devices. It also caters to your content needs in an excellent way. Streamline supports multiple Kodi addons, among which the top ones are: Exodus Redux, The Magic, SportsDevil, YouTube, At The Flix, Maverick TV, and a lot more. This build is very easy to use and supports Kodi 18 and 17.6.
What is so attractive about Streamline Kodi build is its user-friendly interface that is as smooth as butter. It offers plenty of sources to select and view content. Moreover, most of the streams are available in 1080p HD. It's a lightweight Kodi build that misses no important feature, so installing it will be a win-win scene for everyone.
4. Xanax Kodi Build
The popular Durex build has offered this incredibly amazing build named the Xanax. Anyone looking for quality builds for the Kodi app should consider Xanax. It is bursting with a range of addons and subcategory options to choose from.
Xanax Kodi build comes with several Kodi addons for streaming that includes, The Magic Dragon, Yoda, Exodus Redux, and others. All of its addons are well-categorized, offering organized sections for Live sports, TV shows, and movies. For the ultimate streaming pleasure, install real-debrid files to Xanax and get high-quality links. Keep in mind that the Xanax Kodi build works only with Kodi 18.1, Kodi 18 Leia, and Kodi 17.9 Krypton.
5. DaButcher Kodi Build
DaButcher Kodi build is yet another great option to try on your Kodi player. The user-friendly interface makes it a good choice for new Kodi users. Bear in mind that the DeButcher Kodi build works only with Kodi 18 Leia and Kodi 17.6 Krypton.
Besides that, it embroils popular pre-installed Kodi addons: Exodus Redux and Sports Devil. Among its other builds, Daylight is the most recommended build that gives your Kodi a wholly unique experience.
How to use iProVPN with Kodi for secure streaming?
Using a VPN on Kodi is simple. Follow the points below to keep your online activities hidden from ISP and hackers. With a Kodi VPN, you can anonymously install different Kodi builds to stream content without compromising online privacy.
iProVPN uses the AES 256-bit encryption protocol that encrypts and protects traffic from all types of invasion. That's how your ISP fails to intervene in your online activities, and you can have a secure streaming experience.
Get iProVPN subscription.
Install the corresponding iProVPN app on your device.
Change your server location.
Click to connect using OpenVPN or IKEv2 Protocols.
Open Kodi.
Install any Kodi build that you want.
Start streaming!
Conclusion
This guide from iProVPN's digital experts will hopefully help you select the best Kodi build to elevate your Kodi experience. Note that all of our mentioned builds worked perfectly fine during the testing stage. However, for a safer and private streaming experience, be sure to use a VPN before the installation and keep your online activities protected.

---
Start Browsing Privately!
iProVPN encrypts your data for protection against hackers and surveillance. Unblock your favorite streaming platforms instantly with the best VPN for streaming.